It's been a busy day.
I dropped Bunny off at the airport (she's flying out to Seattle to visit family) and by the time I got back to Casa New Jersey, Spring had all the supplies for all the electrical work that needs done about the house.
The light switches (there were two being replaced) went quickly. The back porch light fixture replacement was fairly straightforward, and thankfully, the wasp nest inside had long been abandoned.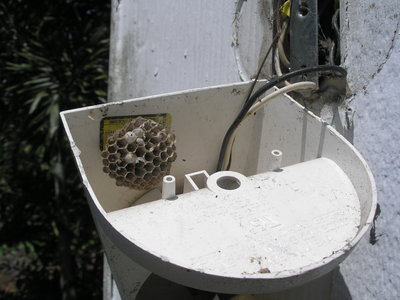 I can't say the same about the bathroom fan.
The fan unit itself came right out. So did the fan unit outlet. The fan unit housing, on the other hand, required the application of a few screw drivers (one mangled beyond use), a large hammer, a crowbar, and some cringe-worthy damage along the ceiling before it was finally extracted whereupon we found the second wasp nest of the day: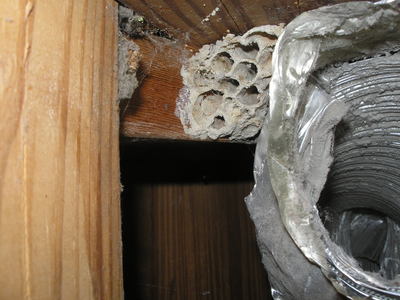 And much like the other one, this one had (thank God!) been abandoned as well.
It was much to our disappointment that the replacement fan was ¼″ too large to fit.
Sigh.
Meanwhile, The Monopolistic Phone Company found some round toits and managed to roll a truck out our way. Bob, The Monopolistic Phone Company Technician got right to work on restoring our phone service. By the time Spring and I realized the bathroom fan unit we had wouldn't fit, Bob had finished connecting up our phone system and was going nuts trying to figure out why the DSL wasn't working. We told Bob that the DSL was off, since we flipped all the breakers.
But we did test the phone at least, and it was working. So the DSL should (there's that word again) come up when we restored power. Bob left.
We also left. Spring and I headed over to Home Depot to see if we could get a bathroom fan that would fit.
We got there only to find out we were screwed. All the units were the same size, meaning they were ¼″ too large. Actually, it was the fan unit housing that was ¼″ too large—the fan unit itself would (just barely) fit. After spending some time thinking about it, we decided to keep the unit we had, and using some tin snips (which we purchased), cut the housing to fit.
And by God we got that fan unit to fit. I cut a quater inch off the fan housing (basically, we removed one whole side), shove it into the space, then with the application of a large hammer, somewhat forced the fan unit itself into place (it was a very tight fit).
And by God if it didn't work too!
Woot!
And we have Intarwebs again!
Double woot!