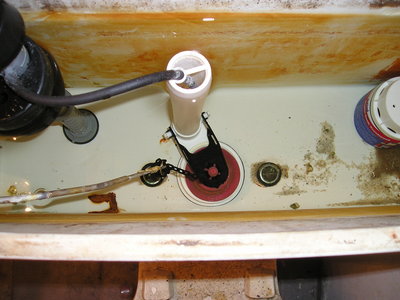 I've spent the day trying fix a toilet problem.
The problem is that water is slowly leaking from the tank to the bowl, and once the water level in the tank gets to a certain level, the ballcock assembly (the thing to the left in the photo above) kicks in, refilling the tank. The noise isn't much, but it's annoying enough when trying to sleep.
So it's obvious that the flapper (the red round thing in the center of the photo above) isn't making a proper seal (unless you flush the toilet just right, which not everyone in Casa New Jersey does). Replacing the flapper isn't difficult at all, so one trip to Home Depot later, and I have a new flapper.
Only it isn't making a decent seal. So it looks like I need some form of gasket to go between it and the pipe beneath it.
It took two trips to Home Depot, and I still don't have a gasket that will fit (the only other gasket I didn't buy I know won't fit). So it looks like I'll have a bit more work to do to get this fixed properly.
Ah, the joys of home ownership.