Today was a really bad day.
All I was trying to do was switch the servers from their normal power outlets to managed power outlets so we can do remote reboots if necessary. Things were going along smoothly until I got to our internal office server (that is also runs our trouble ticket system), a server with redunant power supplies.
I managed to somehow kill it.
Along with taking down (unbeknownst to me) half our name servers because I accidentily unplugged the power strip they were on; it also took down the video switch box, so with all this equipment suddenly not working, I thought thing were way worse than they were.
Sigh.
Fortunately, we had a little used server with identical hardware to the one I killed, so bringing that system back up was easy. And once Smirk found the unplugged power strip that fixed a whole slew of problems there.
I don't handle stress well.
---
HTML consists of so-called tags, like the A tag for links, IMG tag for images and so on. Since tags are nested in other tags, they are arranged in a hierarchical manner, and that hierarchy can be represented as a graph. I've written a little app that visualizes such a graph, and here are some screenshots of websites that I often look at.

Via YARGB, Websites as graphs
He's even made the applet available for use. It's pretty cool. Here's the structure of my homepage: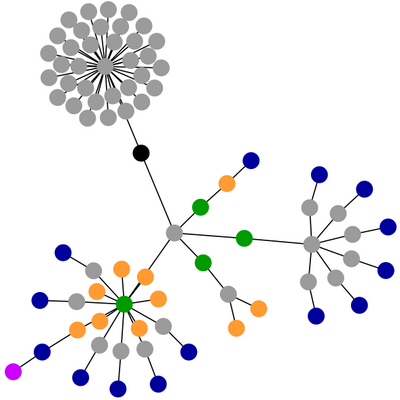 A fairly simple structure, and that grey blob in the upper left hand corner is the <HEAD> section with all the metadata for the page. For comparrison, here is The Boston Diaries: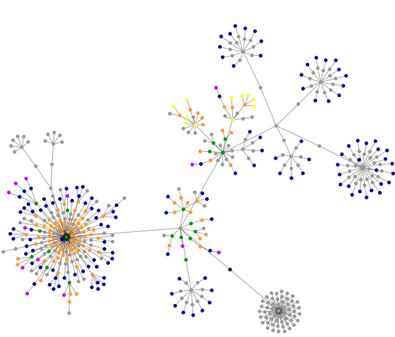 And again, that grey blob in the lower right hand corner is the <HEAD> section, with the multitude of metadata. This page is still well structured, but with a lot more content.
It's a pretty cool app.