From this point, things can only go up.
I'll skip the blow-by-blow details since even I don't care to remember them. But briefly:
Of the three carriers we have for Internet connectivity, one suffered not one, but two (2) fibre cuts today, so our connection to them was pretty much toast; the second one was suffering massive network connectivity issues themselves, but declined to go into more detail than just "shut up! Yes! We have issues!" And the third one wasn't announcing all our routes properly, so we were pretty much dead in the water.
Because of the one above, we in the office were dead in the water because of DNS issues on our own

XXXX

network! (we use resolving only DNS servers, and if they can't get to the root servers, then … well … yeah, can't even resolve local domains all that well). So even checking email locally wasn't an option.
Because of the one above (don't ask), I was reminded of just how much I hate the labelling of ports on the Riverstone router/switch we use. It's way to easy to mix up ports on the Riverstone.
Control panel. Webmail. IMAP/POP server. None of which are working together on a server for a customer. Enough said.
The display on my phone took a turn for the worse. Of course, it didn't help things when I slammed it on the floor because I couldn't deal with two phone calls on the thing at the same time and lost both calls. More on this later.
I could never get the hang of Thursdays.
---
"For Spanish, press one."

From an actual voice mail system I called today.
One of the few amusing bits from today.
---
"I don't see what you have anything to be upset about," screamed Smirk. I guess he heard me bitch about control panels one too many times today. "You have it good! You still have all your hair!"
This was one of the other amusing bits from today.
---
Last week I dropped my new cell phone. Maybe three feet total. And the display went wonky. Over the week it got worse. Oh sure, I could still send and receive calls and still take pictures. But I couldn't read anything on the phone. Now my previous phone has been dropped countless times and it still works (I still have it and it's currently in service, for reasons that will become apparent in a moment). But the new phone?
Pretty much unusable.
So I called the service number for my provider.
Let me state that their phone mail system is a twisty maze of voice mail boxes, all alike. Really. I thought I got into a loop the first time I called. The second time I peristed enough to talk to a Real Live Operator.
Where I learned that any physical damage to the phone, such as liquids being spilled on it, being dropped more than one inch, being breathed on too hard, is not covered by the warentee (the service provider warentee—the warentee from the manufacturer might be different), but that I might have insurance to cover a replacement phone.
So a transfer, and another twisty maze of voice mail boxes and I'm now talking to the insurance department of my cell phone provider where I'm told that no, my account does not have insurance on the phones.
Well.
Good thing the darned thing was free to begin with.
You can see the outside display was pretty bad—pretty looking image, but it's supposed to be displaying stuff like the battery status, time, photos of people that call; not an abstract painting.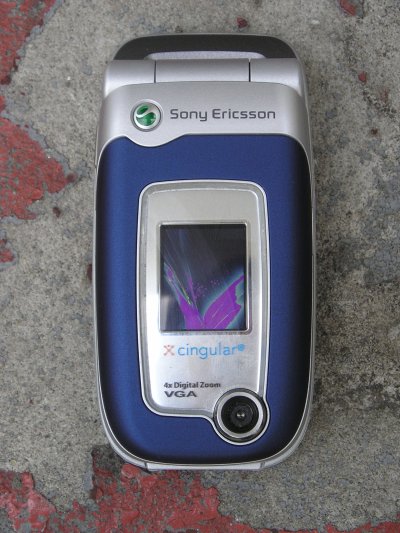 And the inside display is even worse off.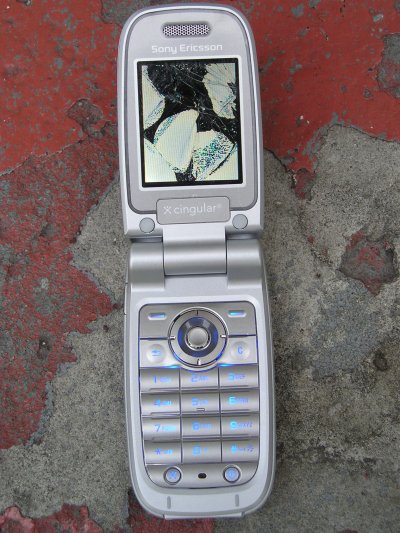 Mr. Cellphone, meet Mr. Hammer.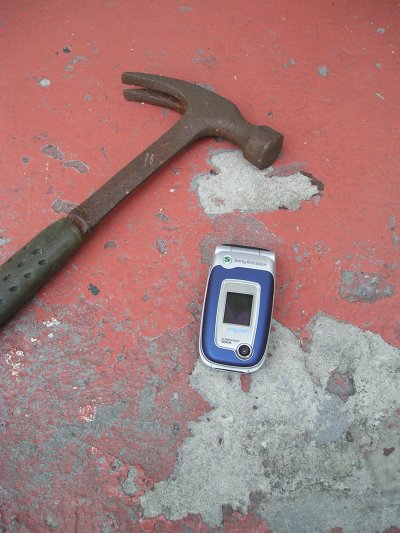 Yes, that's right, snuggle up close now.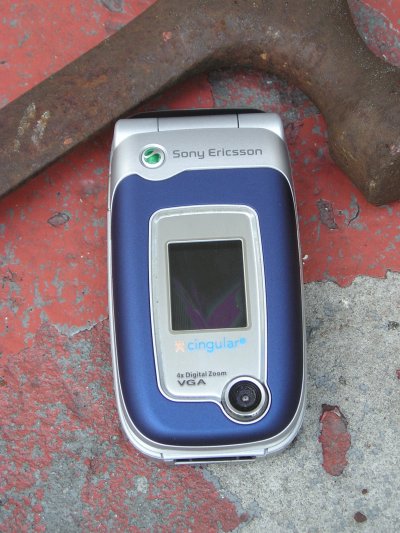 I realize that this cell phone wasn't the cause of my problems today, but it certainly didn't help matters either. And the fact that Sony Ericssons are known to be rather fragile and can't handle drops from more than a few inches doesn't help either.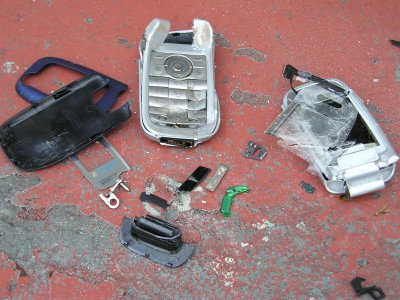 But it sure felt good.