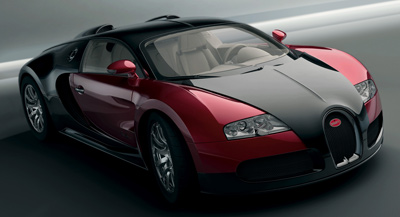 I just came across a most obscene production car.
It's a stylish looking car, like something The Batman would drive. A one thousand horsepower 8 liter W-16 engine (that's two V-8s merged into a single block) that can accellerate from 0 to 60 mph in just three seconds. Accelleration slows down a bit after that, since it takes 14 seconds to hit 180 mph (and not 9 seconds a straight linear accelleration would predict). But give it a few more seconds and you'll top out at 250 mph, complete with your own personal police escourt.
But the Bugatti Veyron comes with a price. A rather steep price, and this is were it gets obscene (as if a 1000Hp 8 liter W-16 isn't obscene enough). It's a cool $1,000,000.00 to buy (and yes, it is a production car. And if you can afford the cool one million to get the car, then you certainly can afford to fill (and refill and refill) it—at top speed you'll be burning fuel at a rate of 1.3 gallons per minute (or an effective 3 mpg).
Thirsty little car.
It'd be real fun to drive this car at perhaps 100 mph, just to get the attention of the local police. Once I get a few lined up behind me, punch the gas pedel (and assuming I don't slam into the side of a mountain) and watch as the red and blue flashers receed into the distance.
Until I run out of gas ten minutes (and fourty miles) later.
And as fast as the Bugatti Veyron is, nobody can outrun a Motorola …