Since I now own two tripods (the broken one is still usable as a tripod, but the crank that raises the camera mount up and down barely works) I figured it might be easy to take 3D photos by using two cameras (mine and Spring's, both are the same model camera) as close together as possible. It wasn't as easy as I thought it might be.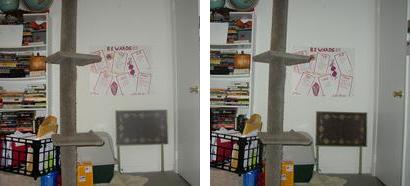 (To view the image, cross your eyes to merge the image although up to 5% of the population won't be able to do this)
I was able to intermingle the tripods enough to get the cameras right next to each other, but the optics were twice as far apart, at 5″, than is optimal for 3D images (at 2½″) but I decided go continue anyway to see the results. The other problem I had was making sure both cameras were aligned correctly; not only facing straight ahead, but aligned vertically (since the tripod allows one to pan up/down). It was only on the last shot (of six) that I had everything aligned properly.
The resulting image isn't bad, but I did have to crop both sides to ensure that both pictures contained the same scene. For instance, the right side had most of the back of a chair in view, while the left side had more of the door and wall in view.
My next attept will be with actually moving the camera to the side some 2½″ to better simulate the distance between human eyes.
---
Via Kim Burchett, a page of 3D images (not all are work safe) where you do not need to cross your eyes or use those red-blue glasses to see the 3D effect. A unique way of presenting stereo images and surprisingly effective.