The Starfleet starship registry prefix "NCC" doesn't officially mean anything other than it is the standard prefix for starships in service. There have been other prefixes, notably "NX," denoting a prototype, or experimental vessel. The two most famous ships with this prefix would be the U.S.S. Excelsior NX-2000 and the U.S.S. Defiant NX-74205. Once the U.S.S. Excelsior was rendered operational, the prefix changed to the standard NCC.
Star Trek: FAQ: What does the starship registry prefix "NCC" mean?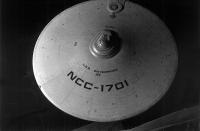 Of all the Star Trek ships called "Enterprise," the one I find most beautiful (and one I would love to own—either as a model or the "real thing") is the retrofited NCC-1701 from Star Trek: The Motion Picture. The model used for filming was seven feet in length and according to the artist who painted that model, it is indeed white although it's hard to tell.
And while I would love to have that seven foot model, I'm not sure where I would stick the darned thing …