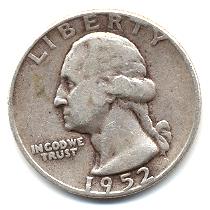 I almost didn't go.
I was feeling a bit tired after lunch so I debated with myself if I really wanted to hit the convenience store and get some Coke. I'm not sure if I won or lost as I ended up going to the convenience store. I was most surprised to find myself with a 1952 U.S. quarter in the change I received.
As a kid, I had one of those books that list the prices collectors are willing to pay for coins of certain years and there was a remarkable difference between the 1964 and 1965 U.S. quarters. The 1965 quarter was the first year the U.S. mint stopped using silver to make the quarter; therefore the price differential.
I no longer have the book (which was the price guide for something like 1979 or some such year) so I have no idea how much exactly my 1952 quarter is worth, but it shouldn't be hard to figure out—a quarter weighs 5.670g (those are the current quarters, but they can't have changed that much in weight over time and that's the first figure I found with Google) and the current price of silver is $4.445 an ounce, but that's Troy ounces of which there are 12 per pound, not 16, so you have 38 grams/ounce and not the usual 28 grams/ounce … so you divide … then multiply … but the quarters back then were 90% silver, not 100% so you adjust accordingly and you get … 59¢ worth of silver!
Um … yea.
But it's still neat!