I've generally been relunctant to add comments to my weblog/journal even though
several people have been hounding me to do so
. And now there's a problem of spam hitting comment systems on blogs (see sidebar).
Mark Pilgrim
explains
the problem
into much detail, and gives good reasons why he's not adding comments any time soon.
Which is pretty much how I'm feeling about it myself.
---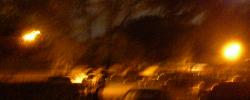 I took
this picture
a few weeks ago and it reminded me of what it might look like in
Detroit
on
Devil's Night
which historically has a higher incidence of arson than the rest of the year.
I've never experienced Devil's Night but I've heard about it plenty of times from family that live in the Detroit area. But in reading up on it it seems that the amount of "urban renewal" going on has dropped dramatically over the past fifteen years or so.