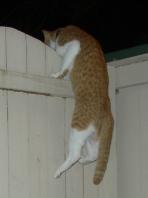 I've been playing around with the digital camera the past couple of nights trying to find the optimal settings for digital night photography. I was outside in the court yard when I snapped a picture of Spodie leaping to the top of the gate.
The gate (and the surrounding fence) is as tall as I am; I find it amazing that he can jump up that high.
Then again, I found it amazing that he could balance a bowl on a pot handle.