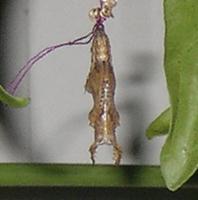 I met
Mark
, JeffK,
Kelly
(who took some convincing to come over) and
ChrisS
at Miserak's, a local pool hall I've been going to for several years now.
While there, Chris gave me a present—a chrysalis. A live (I hope) chrysalis. It's not a Monarch though—I think he said it was a native Florida species.
Not wanting to keep this to myself, I put the chrysalis on Spring's desk when I got home.
When she got home she freaked out at finding this alien looking thing on her desk. Skeeved is the term I think she used.
Heh.
So I put the chrysalis on a plant in the court yard where it will hopefully remain undisturbed until it … well … until the butterfly comes out (it's not exactly hatching and I don't recall what the term is when a butterfly comes out of a chrysalis).