More European coinage.
This time from Denmark and Sweden.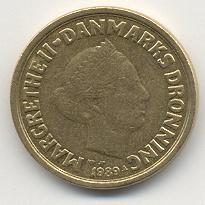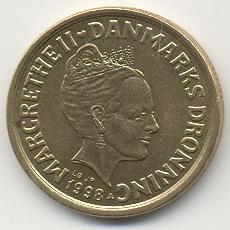 It seems that Queen Margrethe II of Denmark decided to keep up with the Windsors' and in the period between 1989 and 1998, updated her image from her younger days to a more current likeness, while upgrading the crown she was wearing. It's also interesting that some of the lower value coins from Denmark have holes in the middle, although I'm unsure of the exact purpose of such holes. Perhaps they were used to store coins on strings? Decorative? Not enough metal for coinage in the past? Who knows?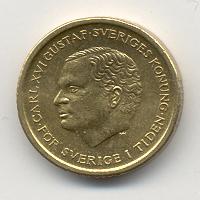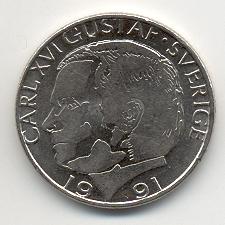 Sweden's Carl XVI Gustaf has forgone the crown (at least in 1991) but did sported two different looks—a conventional likeness on the 10 Kroner but an odd, early 70s android look for the 1 Kroner. At least, that's how it struck me when I first saw it.
Another recurring theme on Swedish and Danish coins are crowns. Lots of crowns. That, and the recurrence of hearts on Danish coins. Very odd to these American eyes. But unlike the British pounds, these coins all feel like coins.