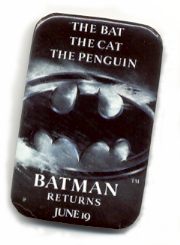 While cleaning out my files I came across some movie promotional buttons from 1992. Specifically, quite a few from Batman Returns and one or two from Alien3. It was (and I guess still is) movie memorabilia and it's been ten years now; hey! They might be worth something!
I check Ebay and see what they may be going for nowadays.
Only one Batman Returns button listed, and it's going for $2.00.
I didn't find any listings for the Alien3 buttons on Ebay.
Sigh.
Anyone care to buy a "Penguin for Mayor" button?