It's been awhile since I last posted (never mind the previous posts—those were actually written today but pre-dated to earlier in the week because I'm lazy). Back in the last week of March, my hosting company changed data centers and because of "technical issues" the IP address my server has had for the past … um … 13 years? 15 years? A long time in any case, the IP address of my server has changed. I was a bit aprehensive about the change because of email (I'm going from a very clean IP address to an address of unknown provenance) and of course I had an email issue—but it wasn't with Gmail, oddly enough, but with Bunny's email provider (the Monopolistic Phone Company).
Sigh, here I am, unable to email a person that is 20 feet away from me! The horror!
All I got was that my IP address was on some realtime black list somewhere. Which one, I had no idea, because the Monopolistic Phone Company was mum on which list they use. I tried querying over 800 different black lists and only found one that listed my IP address—in Brazil! I find it odd that the Monopolistic Phone Company was using a realtime black list from Brazil, but hey, you never know.
It took a month, but now my emails get through the Monopolistic Phone Company's servers, and right into Bunny's junk folder. Progress!
There was also the DNS issues that took about a week to clear up. As part of the move, my hosting company's DNS servers were also changing IP addresses, and those had to be updated with the hosting company's registar which took some time to clear up.
But as of now, things seem to be back to normal around here.
---
Just in case anyone was interested in the Mt. Pfeiffer situation, I have to inform you that it had melted completely away by 8:45PM Eastern, March 18TH, with Aunt Betty TXXXXX winning the pool with a guess of 4:15PM Eastern.
I should note that I have no Aunt Betty and have no idea who she is. But hey, I'm happy she won the betting pool!
---
In the parking lot of The Girls Strawberry U-Pick Ice Cream Shop and Animal Petting Farm (no, really! It's all that and more in the middle of some suburban sprawl—we went for the ice cream and were quite impressed) Bunny and I saw this angry pig in the windshield of a nearby parked car.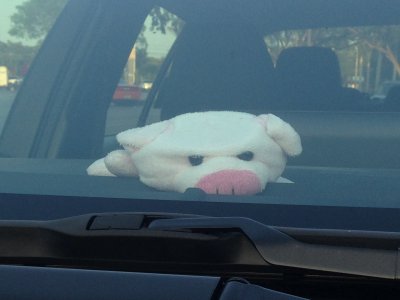 I guess pigs are this year's trunk monkey.