My friend Hoade sent me several stereoscopic pictures (and a viewer) for Christmas. One struck a chord with me: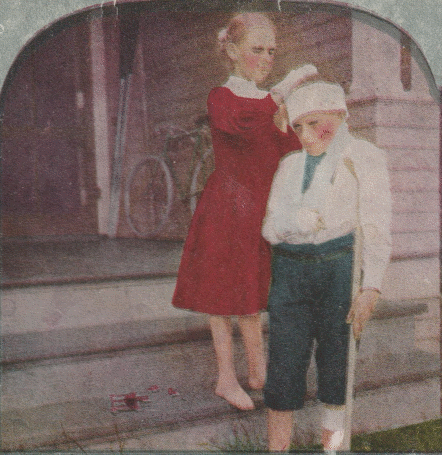 (and yes, I'm trying to give you, the reader, an impression of viewing a stereoscopic picture on the Intarwebs)
On the back is written:
No 1128 (b). SORROWING—JULY 5.

This is the same little boy who started out to make so much noise and smoke yesterday celebrating the Fourth. In the United States in one year, according to the figures gathered by experts, there were 168 boys and men and a few girls, too, who, like this boy, started out celebrate [sic], and wound up by leaving sorrowing friends, for that many were killed by explosions or died from lockjaw as the result of celebrating just one July 4th; and besides that, there were hundreds upon hundreds—something like 7,000 boys and men and girls maimed and crippled in that same celebration. Most of those who died were killed by lockjaw, one of the most terrible of diseases.

Perhaps five whole regiments of young men and boys are killed or injured every Fourth of July by fireworks and revolvers and mostly by toy pistols that shoot caps and torpedoes—for these cause most of the lockjaw.

Is it worth while to celebrate that way, and kill and maim in a celebration so many whose lives are useful to their country? Would it not be better to leave the fireworks to those skilled in handling them, and instead of devoting July 4th to fun, to make it a day of patriotism, to teach to all Americans what the Declaration of Independence means?
No year is given on that particular picture, but some of the others have "1925" so I guess they are all from about the same time period. And given the number of times "lockjaw was mentioned, it appears it was a grave concern at the time.
Nowadays, you have to concern yourself with burnt hair from overzealous neighbors.
Be safe, and remember, there's a reason professionals exist.