Today was a rather crazy day.
The email woes continue to pile up (complaint one: not receiving email, but a check of the logs show a successful delivery of email—go figure. Complaint two: another customer says emails aren't going out. Upon further inquiry, it seems he's trying to send out a few hundred emails to his clients, wishing them a happy holiday season. Sigh) as I was attempting to finish up some household chores before driving into The Office for a dinner meeting.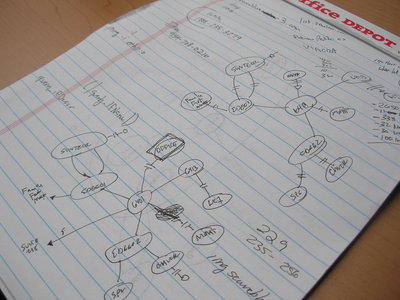 Then it was the drive down to The Office and then a three hour meeting (with dinner). Much talk, not much resolution as XXXXX XXXXX XXXXXX XX XXXXXX XXX XXXX XXXXXXX XXX XXX XXXXXXXXX XXXXXX XX XX XX XXXX XXXXXXXXXX XX XX XXXXXXX XX XXXXXXX XX XX XXXX (best not to ask—it's still starting up).
Then back home for a family finance meeting (the home insurance is skyrocketing and our property taxes have tripled!) for a few hours (fun fun fun).
Only then did I get a change to finish up yesterday's entries (sorting through a lot of photos, and writing code to help generate the entry) and then this entry.
So, now to relax and get to bed.