The clip I made yesterday, all 34 seconds of it, took perhaps an hour and a half to make, but that's including the time it took for me to film the all 18 bits that day (second day of filming).
The sample you saw required the cutting of four individual clips (raw footage: 73 seconds) into the 10 cuts shown and took about half an hour of actual editing time to create (about 1 minute editing time for each second of resulting footage) but I had a clear outline of what I wanted to do for that clip.
The rest of the video?
I'm making it up as I go along, unfortunately.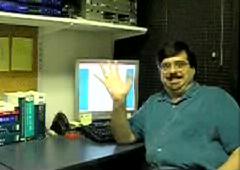 Outtakes … um … and for a good … um … reason.
I don't even have all the bits I wanted filmed yet (I'm only in The Office two days a week) and there's a strong tempation to reshoot a bunch of what I already have (oh, and a transcript? "Uh … uh right there. Blah! Take 37. Ahem. Yeah, right.").
I wonder if I will ever finish this …