As a kid (we're talking middle school here) I was really interested in time travel and higher dimentions (but I never liked the theory that time was the fourth dimension since it's not orthoganal to the three spatial dimenions we live in—for one thing, time only goes in one direction). I read such books as Flatland, the Planiverse and Geometry, Relativity and the Fourth Dimension and I got to the point where I could fairly easily visualize the various geometries in my head (the fourth dimension is hard to verbalize and I don't have a full mental image of it, but I can grasp at it).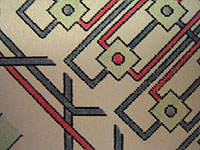 So it's understandable that I was up way too late last night (or way too early this morning—take your pick) pouring over the Starmaze, an incredible 9-dimentional maze and the efforts required to map such a construct. It's an incredible map—half the size it normally would be due to it being hightly symetrical, so it's folded in on itself and each "room" actually represents two distinct locations represented by the colors red and blue (if you enter a room through a red passage, you can only leave through a blue passage, and vice-versa).
Also interesting (at least to me—I'm under no delusion that this has any interest whatsoever to anyone but a very select few) was the description of walking through such a space (if it actually existed).
The description gets a bit too metaphysical at times, dipping into Astrology and the I-Ching, but that may have been a technique used by the author to help him map the space and provide a logical structure. Still, it comes across as being a bit too New-Agey for my liking.