I came across Trebuchet.com, a site where you too, can learn how to build a trebuchet, a type of catapult. The guy running the site is another one of these engineer types with way too much time on his hands. Way too much. And as I was going through his site, I couldn't help but think of an episode of Northern Exposure, where Chris, the artist philosopher disk jockey of the radio station, builds a catapult to fling a cow.
Man, I miss that show.
---
I'm trying to load a page with frames under Microsoft Internet Explorer, and one of the pages can't be displayed because the server is down. Now, does IE display an error in
that frame?
Nay!
It does something
even more stupid!
It displays the error on the
entire
page, rendering it useless!
Grrrrrrrr …‥
---
Our department is responsible for monitoring the network and servers for our portion of The Company Network. Basically, we watch the output from several monitoring tools and call the sysadmins when something goes down.
Our primary monitoring tool was taken away from our department and spun off into its own department, so we're no longer responsible for monitoring the output from that, which is good, because the day the new department is formed the tool stops working because of a failed upgrade. It's been two days now.
That's okay, because we have multiple monitoring software. Only two other packages we use to monitor the Windows NT servers both crash. So there is no way to monitor the Windows NT servers.
But that's still okay, because we have monitoring tools for the Unix servers. Only we've been told that it's not terribly reliable. We certainly seem to be devoid of monitoring tools in a monitoring department.
Welcome to the Cheese Shop.
---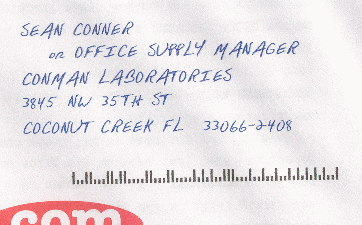 I got some snail junk mail today addressed to either SEAN CONNER or OFFICE SUPPLY MANAGER, CONMAN LABORATORIES. Heh. Hand written even.
Now, obviously, they got my name and address from Network Solutions, as that's the registrar for conman.org.
Now, if you do a query on my domain, you get this following bit of disclaimer from Network Solutions:
The Data in Network Solutions' WHOIS database is provided by Network Solutions for information purposes, and to assist persons in obtaining information about or related to a domain name registration record. Network Solutions does not guarantee its accuracy. By submitting a WHOIS query, you agree that you will use this Data only for lawful purposes and that, under no circumstances will you use this Data to: (1) allow, enable, or otherwise support the transmission of mass unsolicited, commercial advertising or solicitations via e-mail (spam); or (2) enable high volume, automated, electronic processes that apply to Network Solutions (or its systems). Network Solutions reserves the right to modify these terms at any time. By submitting this query, you agree to abide by this policy.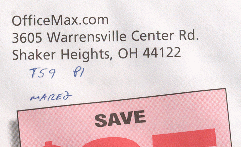 So the company that sent this out definitely abided by (1), and I guess by handwriting my address on the envelope, they can claim conformance by (2) above as well. But I feel sorry for the poor person who had to sit there hand addressing all these letters from Ohio.
---
I also received a notice of a public hearing to rezone the northeast corner of Sample Rd and Lyons Rd (I live just across the street) from a PUD (Planned Unit Development) to a PCD (Planned Commerce District). As in the letter:
The rezoning would allow a car dealership, a gas station with a convenience store and car wash, and a Walgreens Drug Store with a drive-thru window.
Uh, guys? It's already a car dealership! There's a gas station with a convenience store on the northwest corner! There's a convenience store on the southeast corner! And there's a Wal*Mart's a mile away to the west! Hellooooooo!
Sigh. Does this mean I'm getting old?