I'm a few hours away from a road trip with Gregory & Co. to visit a friend of ours who lives in Blountstown, Florida (a nine hour trip and we're still haven't left the state).
The last time I went on a road trip through North Florida, it was with my friend Kurt (who is also going with us to Blountstown) it was to hunt ghosts (which we never found).
But the last time I went on a road trip with this crew (more or less), there were five of us (and we're not small people) crammed into a Dodge Neon as we travelled to Orlando and Tampa to visit various theme parks. That trip ended up being a miserable trip for me as I got quite ill (and had to make multiple offerings to the Porcelain Gods).
Hopefully this trip won't be quite as bad as that one (for one thing, we're travelling in a van, not a Dodge Neon).
---
So here I am, writing an entry using a Pocket PC to test this out before Gregory arrives to kidnap pick me up. The intent is so that I can make entries from the road.
Although I'm finding the keyboard on this thing very annoying. Typing letters is okay, but any type of punctation short of the comma and period is highly annoying , not to mention other non-punctuation symbols. It's taking me about five times as long to use this Pocket PC to make an entry as it does with a computer with any type of computer. The most annoying aspect is the virtual keyboard one can bring up—a small window that has more or less a real layout one can then tap using the stylus. But the second you use the actual (if very small) keyboard on the device (which I find faster for letters) the virtual keyboard goes away, which I don't want—I want the virtual keyboard to stick around for the non-letter keys.
There may be a setting for this; I'll hunt around to see.
---
It is now 8:06 pm and we are now on our way to Blountstown, now that we aren't driving around in circles.
This high tech stuff is pretty cool—I'm making this entry from the Florida Turnpike (aka the Ronald Reagan Turnpike) as we're watching "The Cannonball Run."
Cool.
---
We're at the Fort Drum Service Plaza (it's 10:00 pm) and the place is insanely crowded for a Friday night—perhaps its the throngs of people headed to the Temple of the Rat God.
---
Since I'm sitting shotgun I can't watch "Pulp Fiction" but that's okay since it's the type of film with such great dialog that it doesn't matter that I can't see it.
---
I missed a call, so when I called back, the person was horribly confused, asking me how I had Becky's phone. I had to keep telling him that no, I didn't have Bucky's phone, that this was Sean.
And no, I didn't have Bucky's phone, and the only reason I had his number is because he called me.
He then asked me myu age and location, because, as he relayed to me, there was a girl there with him, that wanted to meet me (wink wink nudge nudge),but since I was travelling, they would call me back.
Wierd doesn't even cover this.
We have finally arrived at Joe's house!
It's only 4:00 am!
Woot.
Now, sleep.
---
So, to make things clear, here's the cast of characters on this little trip.
Those travelling

Gregory, who I've known since high school.
Tom, who I've known since elementary school.
Russ, who I've known since high school.
Kurt, who I've known since college (although we did not attend college together).
Jeff, who I've known since college (although we did not attend college together).
Myself, who I've known all my life.

Those at the Destination

Joe, who I've known since middle school.
Kelly, Joe's wife.
Their three kids.
Joe's family (two sisters and father).
Larry, who I've known since high school (and I just found out he moved to the area).
So with that, I can continue with the trip.
---
Sometime during the night, we stop off at some gas station somewhere in North Forida. Tom gets out of the van and as he's looking around, notices the ground is covered in bird droppings. He then looks up.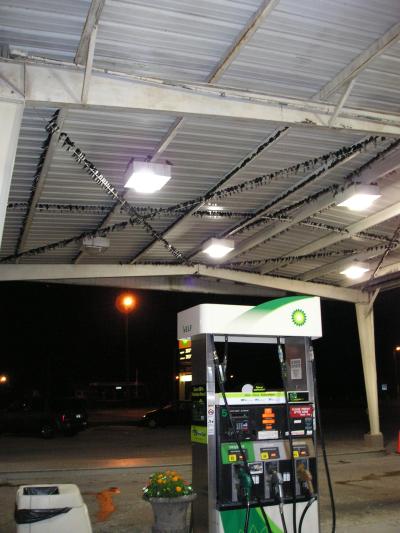 "Um, guys," he says. "I think we better move the van."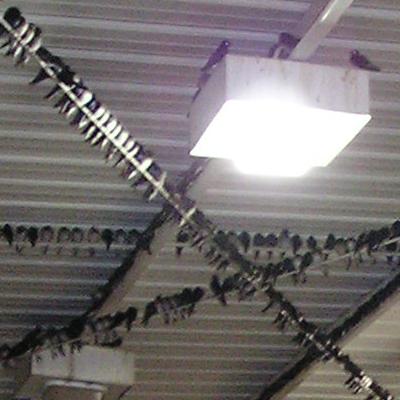 We moved the van.
---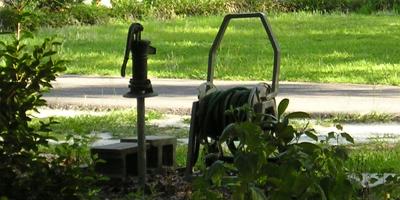 Joe lives in a rual place.
A very rural place.
So rural that you need a hand pump to water the lawn.
---
So here we are, Gregory, Tom, Russ, Jeff, Kurt and myself, really in the middle of nowhere, visiting our friend Joe for the weekend. We awoke around 8:00 am to Joe's son running into the living room, jumping into the huge king size 3′ thick air mattress Gregory was sleeping on, and yelling "You are realy him?"
There wasn't much point in sleeping any longer.
Heck, there wasn't much quiet to sleep any longer.
---
An hour or so later and a party of seven (Gregory, Tom, Russ, Jeff, Kurt, Joe and myself) are in Joe's van headed towards a local restaurant for breakfast. The only remarkable things about the restaurant was the vast choice of food (two eggs, two eggs and bacon, two eggs and ham, two eggs and saugage, two eggs with grits, two eggs with grits and bacon, two eggs with grits and ham, two eggs with hashbrowns, two eggs with hashbrowns and bacon, two eggs with hashbrowns and sausage, two eggs with hashbrowns and ham, and even two eggs with pancakes! Wooooo) and the inability of our waitron to keep our orders straight (I wonder why).
---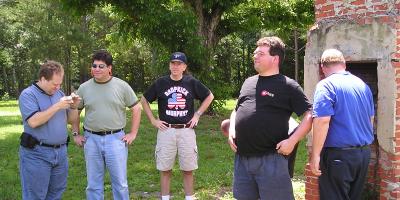 Left to right: Gregory, Russ, Tom, Joe, Kurt (and behind Joe, you can just make out Jeff)
By early afternoon we found ourselves on Joe's Family Farm (owned by his parents for over 30 years). The original homestead had long since fallen apart, leaving only the chimney, but it's not like the farm is in disuse. There's a new house on site, and a replacement barn (steel with a reinforced concrete foundation to support a car lift) and a lot of heavy equipment (Gregory got to take the tractor for a spin—we weren't allowed to drive the backhoe).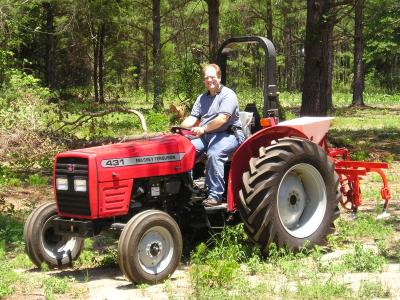 While there, we met up with our friend Larry, who just quit his job as an insurance agent (which now means I have to find a new agent) to follow his dream of selling hot dogs. It beats having to talk to angry customers on the phone.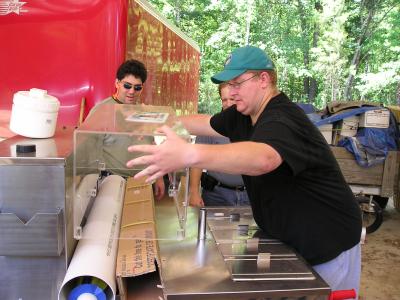 Foreground: Larry showing off his hotdog stand
Background, left to right: Russ, Greg
---
On the way to lunch, Gregory expressed concern over the state of the back tires on Joe's van. Joe shrugged the concern off, saying the tires have lasted this long—they'll certainly last until we get back to his house.
After having lunch at Sunny's BBQ, we were headed back to Joe's house when we heard a large thump and the van started to shake violently. Joe maneuvered the van off the side of I-10 and yup. We had a blowout.
Fortunately, eating at Sunny's probably saved our lives, as the increase in weight stabalized the van to keep it from flipping over (anyone from Sunny's take note: we're available for an add campaign—Sunny's saved our lives!). The outer thread of the tire flew right off and much of the steel band was exposed. Once Kurt got the tail pipe untangled from the wheel, the changing of the tire went pretty quickly, and we safely made it back to Joe's.
---
The rest of the day was spent playing a role playing game, and those that weren't playing were catching up on sleep. Around dinner time, those that weren't asleep (sleeping: Gregory, Kurt) nor having to attend to a bunch of kids (Joe) headed out for dinner (Tom, Russ, Jeff, myself). We first thought of going to this Mexican restaurant we saw in downtown Blountstown, but upon a closer inspection, it looked more like a bar than a restaurant (and the patrons sitting outside looked a bit rough), so instead we went across the street to the local Chinese buffet.
The Chinese place certainly catered to their clientel—not only your typical American-Chinese fare (sweet-n-sour pork, fried rice, egg rolls) were some Southern touches (greens, okra, etc). The food wasn't bad, given the price.
Then it was back to Joe's, where we finished out the night playing games. Then to sleep.
[Why is it taking me so long to write these entries? I don't know … I don't feel like writing lately. The past few weeks have been interesting, in the Chinese "may you live in interesting times" kind of interesting rather than the "this is very neat" interesting and I have to work myself up to writing these. I'll get caught up eventually. —Editor on Sunday, June 4th, 2006]
I think we were all tired this morning as none of us stirred as a thundering heard of kids ran throughout the house in preparations for Sunday Church services. I think we slept for another hour or so after Joe, Kelly and their kids had left. The last person to get up was Gregory, and I had been joking that we should just leave him to sleep as he really needed it.
Joe & Co. arrived back home just as we were leaving so we were able to say our final farewells before heading on the road back to South Florida and in search of a Waffle House for breakfast.
About an hour later, we found ourselves at a very crowded Waffle House with maybe a half hour, hour wait for a table for six (or two booths—it wasn't a very big place). After a few minutes of discussion, we decided to try a Sonic Drive-in that's in the area. Gregory started to drive, but wasn't feeling all that well, so I took over for him.
I've been to other drive-ins (years ago), but not a Sonic. Interesting that they had "walk up" boards you could order from, next to several picnic tables. I'm also impressed that they were able to find workers that could actually calculate change in their heads (the staff had "coin belts"—I'm not exactly sure what they're called, but four steel cylinders that one wears on a belt for giving out change). The food wasn't bad either, and the weather was nice for eating outdoors.
After that, it was driving. Eight hours of driving. I lasted another three to three and a half hours before I started getting too loopy to drive. Russ then took over. I don't recall what movies were watched, as I was either driving, or napping [and I now realize, I could have written these entries then, since I did have my laptop, and Gregory provided a power strip in the van for laptop use. Ah well. —Editor]. Gregory also slept most, of not the entire, way back. I even took over driving from Russ after he (Jeff and Kurt) were dropped off.