More from Gone and Forgotten:
"I am Jena, villainous lackey with a heart of gold and possible love interest for the hero of the eponymous and godawful story STAR-KING, the backup feature from Amazing Wahoo. I only appeared in the last three panels of the story, and even then I was so strung out on cheap talcum-cut cocaine that I barely remember it at all.
Gone and Forgotten: Karate Kid
"Except me get it up me monkey poop-chute hard in Crisis On Infinite Earths. Sugar and Spike get more air time. Me die off-panel and then never be made come back. Now me dance for quarters in comic-book limbo, and sometime me get drunk with Mandrill and Detective Chimp. Me sad monkey. Monkey very sad. Boo-hoo."
Gone and Forgotten: Atlas Comics Part II
A-Hem. "Bwa-hahahahahaha!" Who knows what evil lurks in the hearts of men? I do … for I am the Shadow! No, seriously, I am … knock it off! Like a lot of characters, I made a comeback during the flood of Batman popularity in the mid-1960's. The costume was part of the package deal. Hey, stop laughing, Archie comics really treated me well.

What? What!? Archie is a perfectly respectable publication for super heroes to appear in. I mean, they have the Shield, the Jaguar … um … look, I'll be honest, by the time the 60's ran around, I really torn through my vast personal empire. I was lucky to get this gig. And at least I wasn't as bad off as these guys …
Go. Just read. Else I'll end up quoting the entire site.
---
"There are donuts available," I said to JV, my fellow cow-orker. "Over by JW's desk."
His eyes grew wide. "Ooooooh, Krispy Kremes." He rushed out the office door and came back a few minutes later. "These are the best donuts." I nodded agreeement. Mom taught me never to talk with my mouth full. "They're even better fresh from the factory."
"It's hard to believe they can get better than this," I said.
"They are."
We both slipped into blissful Krispy Kreme comas.
---
"Hey," said Rob when I got home. "What time does Compooosa open?"
"Oh no."
"What?"
"I think 10:00 am. I hate you."
"You want to go, don't you?"
"Yea." Sleep can wait.
---
So Rob and I are at CompUSA when we come across a joystick and car wheel display.
Rob starts playing with it—suddenly we hear tires squealing and what sounds like a wounded elephant trampling a car. The steering wheel controller starts bucking wildly about.
"Cool!" said Rob.
I grab one of the joysticks and pull the trigger. Instantly a gun fires and the joystick kicks back.
"Cool!" I said.
I try the joystick next to it. Same reaction. I grab both and starting firing two fisted.
Rob starts poking buttons on the steering wheel.
Joysticks and wheels are bucking, guns are firing, tires screeching, elephants trumpeting and customers are staying as far away as possible.
We have entirely too much fun.
---
Rob is checking out the lap tops at CompUSA and I'm checking out this cute blond in the isle next to us. She's talking to one of the sales droids so it's hard to see her face, but the rear is nice; her end does justify the jeans, so to speak.
She then turns around. Oh my, I think. I think I know her!
She stares at me like she's going Oh my, I think I know him!
"Kaye?"
"Sean?"
"Kaye!"
"Sean! Oh my god!" We hug each other; introductions are made—Rob this is Kaye, Kaye this is Rob, etc., etc. She finishes buying her new laptop and we all head out to the Chinese restaurant to catch up on the past few years since we both worked at Armigeron Information Services, Inc.
We were lucky that we caught her—she's moving to Orlando in a few days, which sucks (well, not for her, but for her friends down here).
I came across Trebuchet.com, a site where you too, can learn how to build a trebuchet, a type of catapult. The guy running the site is another one of these engineer types with way too much time on his hands. Way too much. And as I was going through his site, I couldn't help but think of an episode of Northern Exposure, where Chris, the artist philosopher disk jockey of the radio station, builds a catapult to fling a cow.
Man, I miss that show.
---
I'm trying to load a page with frames under Microsoft Internet Explorer, and one of the pages can't be displayed because the server is down. Now, does IE display an error in that frame? Nay! It does something even more stupid! It displays the error on the entire page, rendering it useless!
Grrrrrrrr …‥
---
Our department is responsible for monitoring the network and servers for our portion of The Company Network. Basically, we watch the output from several monitoring tools and call the sysadmins when something goes down.
Our primary monitoring tool was taken away from our department and spun off into its own department, so we're no longer responsible for monitoring the output from that, which is good, because the day the new department is formed the tool stops working because of a failed upgrade. It's been two days now.
That's okay, because we have multiple monitoring software. Only two other packages we use to monitor the Windows NT servers both crash. So there is no way to monitor the Windows NT servers.
But that's still okay, because we have monitoring tools for the Unix servers. Only we've been told that it's not terribly reliable. We certainly seem to be devoid of monitoring tools in a monitoring department.
Welcome to the Cheese Shop.
---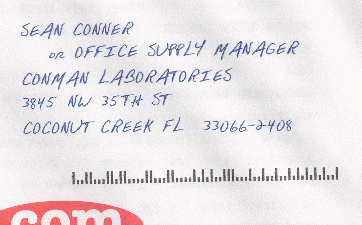 I got some snail junk mail today addressed to either SEAN CONNER or OFFICE SUPPLY MANAGER, CONMAN LABORATORIES. Heh. Hand written even.
Now, obviously, they got my name and address from Network Solutions, as that's the registrar for conman.org.
Now, if you do a query on my domain, you get this following bit of disclaimer from Network Solutions:
The Data in Network Solutions' WHOIS database is provided by Network Solutions for information purposes, and to assist persons in obtaining information about or related to a domain name registration record. Network Solutions does not guarantee its accuracy. By submitting a WHOIS query, you agree that you will use this Data only for lawful purposes and that, under no circumstances will you use this Data to: (1) allow, enable, or otherwise support the transmission of mass unsolicited, commercial advertising or solicitations via e-mail (spam); or (2) enable high volume, automated, electronic processes that apply to Network Solutions (or its systems). Network Solutions reserves the right to modify these terms at any time. By submitting this query, you agree to abide by this policy.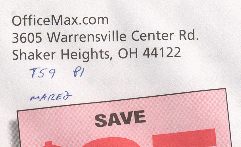 So the company that sent this out definitely abided by (1), and I guess by handwriting my address on the envelope, they can claim conformance by (2) above as well. But I feel sorry for the poor person who had to sit there hand addressing all these letters from Ohio.
---
I also received a notice of a public hearing to rezone the northeast corner of Sample Rd and Lyons Rd (I live just across the street) from a PUD (Planned Unit Development) to a PCD (Planned Commerce District). As in the letter:
The rezoning would allow a car dealership, a gas station with a convenience store and car wash, and a Walgreens Drug Store with a drive-thru window.
Uh, guys? It's already a car dealership! There's a gas station with a convenience store on the northwest corner! There's a convenience store on the southeast corner! And there's a Wal*Mart's a mile away to the west! Hellooooooo!
Sigh. Does this mean I'm getting old?
I have been advised that a total outage of network connectivity occurred at around 5:00AM [of the 2nd]. I was not notified of any such incident, nor was our Networking staff. I find no reference to it on the Network Status Page.

Can you clarify what happened that might lead someone to think that there was an outage, when apparently no such outage was noticed in the [department]?

Email from the Boss
I'm sitting here slightly depressed and partly it's because it's too quiet here at The Cheese Shop and I'm paranoid that I might be missing something, like, oh a network outage or something. There's also a concern here in The Cheese Shop (The Cheese Shop. I like that name for our department. It fits, in a wierd way, given the problems of late) that we may not be a department for much longer. One of the monitoring tools we used has been spun off into its own department and we're not sure if they'll be responsible now for monitoring the servers, or if they'll be responsible for monitoring the monitoring tool to ensure it's monitoring and we'll be monitoring the monitoring tool to ensure the servers are up and running. Or something to that effect. Or maybe we'll be reduced to just monitoring the actual network, which is what our Primary NOC does but from another city.
It's enough to make anyone's head hurt.
Several times in the past I have had to address the situation of someone on the [department] staff directly confronting a member of another department with an issue (either personal or work related), when any actions that might have needed to be taken should have been referred to me to discuss with that individual's manager or supervisor.

Such an incident happened again today, and a complaint has been made regarding the conduct of the [department] staff member involved. Additionally, it was noted by the shift supervisor that "I have noticed a couple of the [department] reps coming out to the Tech Support floor to address reps in the past as well."

You do not have the authority to rebuke, criticize, or in any fashion belittle another employee, more especially in front of his peers. If you feel that such action is necessary in a particular case, then send me the details by e-mail and I will discuss the matter with the supervisor or manager of the individual concerned.

Remember, the [department] is a monitoring and reporting group only. We are not enforcement in any, shape, or form. If you would prefer to be an enforcer, please resign from your position with the [department] and apply to [the security guard] for a position with his security firm.

Further complaints of this nature will result in disciplinary action, up to and including termination.

Another email from the Boss to our department
We're also being rebuked for handing issues with other employees directly rather than going through management. For some reason that just rubs me the wrong way. If another employee has a problem with me, I would prefer for that person to come talk to me about it rather than with my boss (or their boss to my boss). That just seems so … childish. Something you would do in 5th grade ("Ms. Crabtree! Ms. Crabtree! Pat's hitting me again!").
So it's okay for management to rebuke, criticize or belittle employees, but not for us mere peons in non-management.
Okay, that's a cheap shot. I know it. But I just can't shake this feeling of being back in high school and having to respect the authority of the teacher, only now it's the manager but we're still sitting at a desk doing little more than busy work only now we don't get homework and we don't change rooms every hour. The "no homework" is a bonus, and okay, so are the OC-3s. But sometimes I have to wonder …
I'm also depressed because I'm here on Friday night (okay, Saturday morning) and wishing I didn't have to be here. I'm hungry but I'm all sub sandwiched out and there's no other place open this late in Boca Raton (and no, Denny's is not an option). And the selection from the Vending Machines O' Death isn't all that great either. I've already gone through most of the more edible selections there.
Curiousity got the better of me, so I decided to see just how bad my gratuitous list of people I know had deteriorated.
It's not pretty.
"404."
"Oh, where you expecting a page here? 404."
"We're sorry. The URL you clicked up is no longer in service. Please back up and try your click again. 404."
"Busy. Busy. Busy. Busy. Busy. Busy. Busy. Busy. 404"
"The URL you have clicked, aitch-tee-tee-pee-colon-slash-slash … has been disconnected. Please back up and try your click again. 404."
"We don't need no steeeeeking URLs. 404."
"You step in the stream / but the water has moved on. / This page is not here. 404."
You know, if only the actual error pages where that amusing.
---
In trying to track down members of Generation-X that I used to hand out with (on alt.society.generation-x and it's mailing list (which I'm still on although the volume has dropped since the heady days of 1996 with 200+ messages a day to it's current trickle of maybe 2 messages a quarter)) I came across Leslie Harpold's homepage.
I remember back in 1996 (give or take a year) that she wanted to start an online magazine. I had similar notions at the time so I registered a domain (actually, MediaWeave.com and MediaWeave.org) and thought maybe we could collaborate. She declined, as my purpose (multi-media) wasn't her purpose (not multi-media).
It didn't matter since I had only registered the name; I never did get around to paying for it. Nor did I ever get around to actually doing the site. But Leslie did: Smug. Which appears to currently be on hiatus.
But she's also gone on and done other stuff, like her prepacked homepages (such as the goth girl package).
Odd factoid here: Not only were we both born on the same day (we both share the birthday with Elvis Presley and David Bowie) but we were also born in the same town (Royal Oak, MI). Not the same year though. Not sure why I mention this, other than I think it's a neat fact.
Another odd factoid: The word factoid is not a real word.
Yet another useless factoid: you were spared a rather poor pun in the original edit of this entry.
Maybe Smug will eventually return.
---
Mark, Kelly and I are over at JeffK's house playing Dreamcast games. They start with this fishing game (fishing game? Like that would make an interesting video game?) and they keep pestering me to play.
I refuse. "I just want a simple shoot-em-up game," I said.
"Well, I have this one shoot-em-up game," said JeffK. "But it's nearly impossible to play."
"Let's see it."
JeffK loads the game. No idea what it's called, since it's all in Japanese, but it's this wierd overhead scrolling shoot-em-up game where a bazillion objects, enemies, bullets, lasers, power-ups, shields, explosions, the background, are all moving in six different directions at once and it's impossible to actually be anywhere on the screen for more than a second without being killed and we're all wondering This is a game that can actually be played?
We then moved on to a taxi-cab driving game.
And I thought Burger Time was a bizarre game.
---
After playing video games, we rented Manhunter, the first film in which Dr. Hannibal Lecter appeared. Of course, this time he's played by Brian Cox and not Anthony Hopkins. But the plot is similar to Silence of the Lambs: an FBI agent calls upon Dr. Lecter to help track down a serial killer.
It's not a bad film but it isn't in the same league as Silence of the Lambs. It actually comes across more as a very well done student film than a slick Hollywood production—the music is a bit loud and the mixing is rather jarring at times. But it's an interesting story and it's not revealing anything to say that Dr. Lecter does not escape.
And it's not nearly as graphic in the violence either.
It's worth a rental.
I walked to the local corner store. It's such a nice day and the store isn't that far, just around the corner; it being a local corner store and all that.
The experience brings back memories of years ago when I used to bike more than I do now. Back then (and we're talking about fifteen years or so) my main method of transportation consisted of a 12-speed bike (I wouldn't get a car until I was 19. I didn't learn how to drive until I was 19, but that's another story for another time). So the bike got plenty of use.
Now Florida is flat.
Kansas is mountainous compared to Florida.
Ubiquitous South Florida Weather Forcast
Lows in the high 70s, highs in the high 80s. Partly cloudy with a 20% chance of scattered showers. Winds NE at 15 knots; seas 1-3 feet with a light to moderate chop.
So you would think that biking down here would be easy—no hills that require twice the effort for half the speed to climb. Right?
Wrong!
Sure, there are no hills down here.
But there's this constant breeze. Runs about 15 knots on average and overall, I would prefer hills to that! Granted, it's easy when you're going with the wind, like it's easy going down a hill, but …
Ever bike into the wind at 15 knots? Tiring isn't the word. Tiring is going across the wind. And right there, about 75% of the directions you want to travel are already uphill.
Hills? Give me hills any day …
---
In contemporary society, we are accustomed to islands of abundance within deserts of scarcity, islands which must be defended against a constant pressure. Western ideas about economics are founded on this assumption, that there is not enough to go around. Something is considered to be valuable in the degree to which it is scarce, therefore an unlimited resource has very limited value. But this directly contradicts the basic nature of digital products - any sequence of bits can be copied any number of times. And so we are witnessing an enormous effort to prevent computers and networks from doing what they're particularly good at: copying and distributing information. This contradiction can only be resolved by abandoning the idea that scarcity is the only measure of value.
Just something to think about …
The other day, Kelly talked me into submitting my résumé with his company, in light of recent events in The Cheese Shop.
So I called the appropriate person where Kelly works and left a message stating my interest and giving a link to my résumé and my phone number. A few hours later the person called back and I have an interview scheduled for Thursday.
You know, my current job started this way …
It was an appropriately sci-fi spectacle for the Year 2000: a white MC with the fastest-selling solo album of all time. As Charles Barkley told a reporter, "You know it's going to hell when the best rapper out there is white and the best golfer is black."
LUNATIC GENIUS, POTTY-MOUTH, HATEMONGER, OR ALL OF THE ABOVE? SOME THOUGHTS ON THE SURREAL SLIM SHADY.
And of course, the best golfer is Tiger Woods.
---
Readers should also take into consideration that Microsoft is a partner with NBC, which is owned by General Electric, in an all-news cable channel, MSNBC, which competes with CNN, which is owned by AOL Time Warner. What's more, the editor in chief of , the cable channel's affiliated website, is my mother's brother's wife's aunt's husband's nephew, which obviously makes it difficult for me to evaluate objectively the merits of a merger between a company (AOL) that recently bought the company (Netscape) that makes the Internet browser that competes with the browser of the company that employs me, and a company (Time Warner) that owns a studio (Warner Bros.) that made the movie Wild Wild West, which I saw on an airplane and which is unforgivable….

Look: this very article you are reading is in a magazine published by a company that owns a cable channel that competes with another cable channel that is half owned by a company (Dow Jones) that also half owns a magazine (SmartMoney) that competes with another magazine (MONEY) owned by the company that publishes this magazine, and half owned by a company (GE) that also half owns a cable channel (MSNBC) that is half owned by the employer of the author of this article, whose CEO (GE's, that is) nevertheless often appears on the cover of the magazine (FORTUNE) that competes with the magazine (SmartMoney) co-owned by the company that also co-owns CNBC with GE.
And my Mom once went to her father's sister's son's ex-wife's husband's 50th birthday party. In another state no less.
Seriously, while the article itself is an amusing dislosure, it does point out what to me is a disturbing trend—forget a one world corporation, how about a one-world owner! Another trend I can see happening is the illegality of actually owning anything. Do you own your car? Most likely, you're making payments on it and by the time you pay it off, you get another one. Your home? Renting, or mortgaged (which means the bank technically owns it until you pay off the note). Movies? Games? Software? If Microsoft has its way, you'll subscribe to the next edition of Microsoft Word; you won't actually own a copy.
I was just talking with one of the techs here, and it seems that OpenSRS allows anyone to effectively become a registrar for $250.00. Not only that, but you gain access to make changes to the root servers with software (source code provided) they give you.
Quite interesting.
---
I had my interview today with a new company for a similar position I now hold. I'm more than qualified and it's clear they want to hire me on the spot.
The company itself is closer than where I work now, and with four data centers across the country, and just tons of insane hardware to drool over (Sun 450 Enterprise systems everywhere! Raid systems! Fail over machines! Two Cisco 7500s! Terrabytes of disk space!) it does sound tempting. But even with all that, and their corporate headquarters in a newly constructed four story building (where I would be working) and over 400 employees, it is still a dotcom company and with the recent Internet stock bubble popping, and ad revenue sinking it does give me pause working there.
But that's not the real reason I'm hesitant to work there.
The real reason I'm hesitant to work there is well, it's work. It would be more work than I really want at this point, involving more system administration than I really care to do. And like most companies in the U. S., you get your standard two weeks of vacation (but only after you're there for six months). After three years, you then get three weeks, but from the sound of it, not many people there have qualified for that, nor from the tone, is it expected you actually take all three weeks.
But that could be my biases showing here.
The one manager I talked to (out of three that interviewed me) about vacation time, I mentioned that I was used to taking three, four weeks vacation time a year at previous jobs, usually with a month's notice and not paid (the notion of an actual paid vacation is rather novel to me to be sure).
"I don't care if I'm paid or not," I said.
"Yes," he said. "But I just can't let anyone take time off like that. This is a twenty-four-seven company and we need people to cover this place around the clock."
"I understand that."
"And if I let you do it, then other people will want to do it." Anarchy reigns, hell freezes over, cats and dogs start living together!
"But I've heard that people in Europe get six weeks vacation a year," I said.
"But it's the law there." It's a fair conclustion that there is no way I'm getting more than two weeks vacation time out of this job. "You're just living in the wrong country."
The other sticking point was the simple question he asked me: "Where do you see your career going?"
Well, I thought, I still don't know what I want to do when I grow up. "I really don't know," is what I actually said. And it's true. I don't know. I took my current job because I was pretty much burned out of the whole dotcom insanity, development, insane schedules, long hours and other corporate supidity (not that I worked insane schedules, but I tend to avoid such situations).
And it is a dotcom.
But I have a few days to think this over.
Beautiful. Simply beautiful.
I woke up and crossed the room to the clock. It read 7:34. Crap! I thought. I forgot to set my alarm clock correctly again. I headed to the bathroom as the twilight streamed in. Coming back out, I paused. Was it really 7:30 pm? I looked again at the clock. The small indicator for PM was not on. It's only 7:30 am?
My sleeping schedule is all messed up.
It's amusing to listen to the US counter-intelligence officials now scorning Hanssen for lack of "tradecraft" in using the same drop week after week. These are the same counter-intelligence officials who remained incurious across the decades about the tinny clang of empty drawers in their TOP SECRET filing cabinets, all contents removed on a daily basis by Ames and Hanssen who deemed the use of copying machines too laborious. In just one assignment, the CIA later calculated, Ames gave the KGB a stack of documents estimated to be 15 to 20 feet high. Hanssen was slack about "tradecraft" because he knew just how remote the possibility of discovery was. The only risk he couldn't accurately assess was the one that brought him down, betrayal by a Russian official privy to the material he was sending to Moscow.
Via Robot Wisdom, What are spies for?
Mr. Speaker, the Senate is about to confirm another director of the CIA, even though America found out about the collapse of the Soviet Union on CNN. America learned of the fall of the Berlin Wall on CNN. America found out about Saddam Hussein's invasion of Kuwait on CNN. After all this, Congress keeps pouring billions of dollars into that big sinkhole called the Central Intelligence Agency. I say, with a track record like that, Congress does not need a Committee on the Budget; Congress needs a proctologist. I think the record is real clear. Congress should fire the CIA and hire CNN. Maybe we will learn what is happening in the world.

Rep. James Traficant (Ohio) 1997
I've seen Three Days of the Condor and some of Spies Like Us and in reading this article, it seems that the CIA is more inept than Chevy Chase and Dan Aykroyd and that of Harrison Ford or Willem Dafoe (from Clear and Present Danger).
I find it both hard to believe and amusing that the CIA is claiming that such theft of material is responsible for their failing to notice that the Soviet Union was crumbling. Um … didn't they notice their filing cabinets were failing to hold documents? Seems to me that the folks living within the Beltway are in their own little world not subject to reality as we know it.
---
The Short Answer for Why Micropayments Fail

Users hate them.

The Long Answer for Why Micropayments Fail

Why does it matter that users hate micropayments? Because users are the ones with the money, and micropayments do not take user preferences into account.

In particular, users want predictable and simple pricing. Micropayments, meanwhile, waste the users' mental effort in order to conserve cheap resources, by creating many tiny, unpredictable transactions. Micropayments thus create in the mind of the user both anxiety and confusion, characteristics that users have not heretofore been known to actively seek out.
The Case Against Micropayments
I personally have been waiting for micropayments to come along. I'm thinking Hey, great! Charge a small bit, help defray costs or even make a buck or two. But this article has me rethinking the entire scope of micropayments or how websites should make money.
---
But InTether's most intriguing features are those intended to rebuff hackers. To begin with, Friedman says, the system incorporates 11 layers of security defenses. "All have to be successfully navigated" in order to hack the system. "But one piece does nothing but check continually the integrity of the other pieces," he says. "If you could disable a certain piece, within milliseconds our system would know."
Via my dog wants to be on the radio, Copy This! Can `Military' Technology Beat Digital Piracy?'
Nice and all, but what if the operating system in question (and in this case it's Microsoft Windows obviously) is running on a virtual machine? Like under, say, VMWare?
---
Just prior to the collapse of the Soviet Union, the Chinese equivalent of the Coast Guard (possibly the Navy?) received a single distress call. They were able to track down the location of the call and sent a ship.
Sure enough, sitting in the water are a bunch of Chinese fishermen and no sigh of a boat anywhere. They're pulled to safety, but their story of what happened isn't believed and even when they're threatened with jail time, they still stick to thier story. So they're thrown into jail.
Six months later an official of the fast disentrigrating Soviet Union hears the story of the unfortunately fishermen and sends a letter to the Chinese government collaborating their story.
It appears that an overloaded Soviet cargo plane was flying over the ocean when it became apparent that they would not make it to their destination so the obvious solution to their problem was to dump their cargo. Unfortunately, the cargo ended up going through the Chinese fishing boat.
It was even more unfortunate for the cows.
---
I've had a few days to mull over this and I've decided. I'm not taking the job.
Like that wasn't obvious.
---
I'm up a bit late (remember, working third shift here) since I'm updating the journal. I'm getting a bit hungry so I change clothes, and walk out the door.
I don't have my car keys.
Which is bad, because they're attached to my house key.
Which is in the house.
Along with my wallet, which contains a spare set of keys.
Nice.
I try the door. Yup. Door is locked. I walk around the condo. Yup. Windows are locked. Go back to the door. Still locked. That's when I yank on the door and it latches.
I hadn't shut the door fully closed the first time! And now I just did
Sigh.
---
Ring.
Ring.
"Welcome to The Company!" said the computerized phone system at work. I'm at my neighbor's house (since I'm locked out of my condo) trying to call my roommate, as we both work for the same company. "If you happen to know your party's extention …" which I don't … "you may dial it at any time. If you need to check the corporate directory, please hit star."
Beep.
"Please enter the first few letters of the first name of the person you are trying to reach."
Beep. Boop. Beep. Bop. Boop.
Pause.
"XXXXXXXXXXXX. Extention 5555." Nope. Nowhere close to Rob.
"XXXXXXXXXXXXXX. Extension 5556." 2nd shift guy, and again, nowhere close to Rob.
"XXXXXXXXXXXX. Extention 5557." Someone else I don't know. "To hear more names, press the pound key."
Beep.
"XXXXXXXXXXXX. Extention 5558." Pause. "Thank you for calling The Company. If you happen to know—" What was my cow-orker's number? He should be there by now …
Beep. Boop. Bop. Beep.
Long pause.
Ring.
Ring.
"Thank you for calling The Company. Have a nice day."
Click.
Grrrrrr.
Ring.
Ring.
"Welcome to The Company! If you happen to know your party's extention …" which I don't … "you may dial it at any time. If you need to check the corporate directory, please hit star."
Beep.
"Please enter the first few letters of the first name of the person you are trying to reach."
Beep. Boop. Beep. Bop. Boop. This time another cow-orker.
"There is no one by that name in our directory. Please hit star to input another name.
Beep.
"Please enter the first few letters of the first name of the person you are trying to reach."
Beep. Boop. Beep. Bop. Boop. Yet another cow-orker.
"There is no one by that name in our directory. Please hit star to input another name." I try my boss. "There is no one—" I try yet another cow-orker. "There is no—" I try Rob again. "XXXXXXXXXXXX. Extention 5555." I hang up.
Let me try something else.
Ring.
Ring.
"Welcome to The Company's Automated Phone System! To talk to a sales represenative, press one. To talk to billing, press two. For technical assistance, press three—"
Beep.
"Welcome to Technical Support. For dial-up, call 1-800-XXX-XXXX. For DSL support, call 1-888-XXX-XXXX. For DNS support, call 1-800-XXX-XXXX." So far, three different 800 numbers. "For web hosting support, call 1-800-XXX-XXXX."
Click.
Ring.
Ring.
"Welcome to The Company's Web Hosting Support. For sales assistance, press one." Sigh. "For billing assistance, press two. For DNS issues, press three." Yea, yea. Where's the most common option you morons? "For technical support, press four–"
Beep.
Pause.
Musak. Tony Bennet singing NIN's "Head Like a Hole."
"Technical support! May I please have your domain name?"
Finally! "Um, I'm trying to reach Rob Summers. This is his roommate and I urgently need to talk to him."
"Do you know his extention?"
"If I knew that, I'd call him directly."
"Ah. Okay, hold on … "
Musak. Pat Boone covering AC/DC's "Hiway to Hell."
"I can't find his extention, but I have his cell phone. Is that okay?"
No. I want his extention. "Yes." I write it down, hang up and finally call Rob.
Good lord.
Aaaaaaaaaaaaaaaaaaaaaaaaaah!
I'm running around cleaning up the place before the cleaning lady gets here and I'm just overwhemled with how much stuff is simply breaking down here in the condo.
I'm a horrible home owner. Something breaks, I'd like to call someone to take care of it. In that reguard I'm like my Dad. But it's not like I can't repair this stuff—I can. I just don't want to be bothered.
---
My mom would rush around the house cleaning. "Mom, isn't that what the cleaning lady is for?" I would ask her.
"I can't let her see the house like this!" she sould say.
I could never quite understand why she felt compelled to clean the house before the cleaning lady would come.
Now I do.
And I can't explain it either, other than to say "I can't let her see the house like this!"
---
having a job is not unimportant, but if knowing perl is a requirement for a particular job, consider another one before taking that one. this is true even if you know perl very well. life is too long to be an expert at harmful things, including such evilness as C++ and perl.
can lisp do what perl does easily?
Okay, I admit, I hate perl. Take the worst of /bin/sh, sed, awk and C, throw in some nonsense theories about computer languages should be like ambiguous human languages and give it to people who don't know the first thing about decent design nor maintainable code, and you get perl.
Am I biased? Perhaps a bit. But like Forth, perl has a reputation of being a write-only language. Only Forth has a consitent syntax. Perl doesn't.
And I'm a sucker for perl and C++ bashing.
Even as commercial ISPs began tightening down their mail servers – rejecting outgoing mail from non-subscribers, and forcing subscribers to electronically prove their identity before sending mail – Gilmore kept his own mail server open to the world, a service he says his friends have come to rely on.
Via Flutterby, Verio gags EFF founder over spam
I just found this amusing on several levels.
---
My son regarded what we did as illegal. He kept saying it was wrong to steal the music. I told him we were listening to it, just that. When we were finished we could trash it if he preferred. If he wants to fight for my rights he could call up BMI and ask them why my broadcast-related payments were so low during the years The Who were in the top 10 AOR playlists. He might ask them why during the 1989 Who tour, when we paid a huge sum of money to BMI for the right to perform songs I had written, they eventually paid me (after a lot of complaining from my manager) a tiny portion of that sum, excusing themselves because their main payout area that year was Nashville.
Via slumberland.org, Pete Townshend on the recording industry.
No one would have made the connection between his job and his death, had it not been for a doctor who specifically asked if he had been in a warehouse or exposed to dried rat or mouse droppings at any time. They said there is a virus (much like the Hanta virus) that lives in dried rat and mouse droppings. Once dried, these droppings are like dust and can easily be breathed in or ingested if a person does not wear protective gear or fails to wash face and hands thoroughly. An autopsy was performed on the clerk to verify the doctor's suspicions.
Never underestimate the magnitude of human ignorance. America seems to be about ensuring that the stupidest survive, and in the case of the hot McDonalds coffee on the lap lawsuit, the dumbest often get awarded millions of dollars. How did it ever come to this.

Snippits of two (2) email messages I received today.
Sigh.
I'm on this mailing list and occasionally (okay, rather frequently) items such as these are forwarded as gospel; as truth that we shall hold dear to ourselves. They're nice people, don't get me wrong. But the whole lot of them use Windows email clients and think nothing of forwarding the silliest little thing to the list (including 39MB atachments) and then get all defensive if called to the carpet on such silliness.
I sent replies to the list about both of these, sending in links to debunk the email, and what do I get back? "Yadda‥yadda‥ I just forward 'em, I don't research 'em. My view is, better safe than sorry." and "Mr. Wellspring of knowledge, If only you could use your powers for good."
You might ask me why I'm still on such a list. Good question. I think I like rattling their cages from time to time. Like now.
---
It seems that Taco Bell is going to give everyone in the US a free taco if the Mir hits a 40'x40' (40 feet by 40 feet, or 12 meters by 12 meters for the Imperially challenged) target in the South Pacific. I even heard a rumor that they took out insurance just in case they have to pay out.
So what are the odds of Mir (or any piece thereof) hitting a 40'x40' area? Well, the area of a sphere is 4πr²—to make things easier let's just say it's 12r² and use 4,000 miles (6,437 km) as r. That's 12*(4*103 * 4*103) which is 19.2*107, normalize it to 1.9*108 and oh, let's say 2*108 or 20 million square miles (you gotta love exponents—makes the math easier to work with). The target is 1,600 square feet (1.6*103) and there are 5,280 feet per mile, so that makes some 28 million square feet per mile (2.8*107). So multiply 2*108 by 2.8*107 and you end up with a surface area of 5.6*1015 square feet for the Earth. Divide that by the target area and you get 3.5*1012 which means if my math is sound, one chance in 3.5 trillion.
Well, actually, not quite. That's the entire Earth and since most objects orbit around the equator, the likelyhood of the Mir crashing in any arbitrary location, say, the South Pole, is not likely. So let's restrict ourselves to an area between 30° North to 30° South. To make it easy (again) we can treat this as a cylinder, so the surface area is 2πrh, and plugging the numbers in and rounding 2π to 6, we end up with an area that is approximately 10 million square miles, which increases the oods to one in 1.75 trillion.
I don't think Taco Bell has much to worry about.
---
Last month I heard a rumor that it was possible to find out the resolution of a browser window and I found no proof of it. Well, I was wrong.
I wasn't entirely wrong, but via SlashDot, a report on Earthlink's browser that does include that information. I checked my own log files and yup, there it is:
Mozilla/4.0 (compatible; MSIE 5.0; Windows 98)
::ELNSB50::000041100400030003e201f6000000000501000900000000
Mozilla/4.0 (compatible; MSIE 5.0; Windows 98)
::ELNSB50::000041100400030003e201f6000000000501000900000000
Mozilla/4.0 (compatible; MSIE 5.0; Windows 98)
::ELNSB50::000041100400030003e201f6000000000501000900000000
Mozilla/4.0 (compatible; MSIE 5.0; Windows 98)
::ELNSB50::00004110028001e002740103000000000502000800000000
Mozilla/4.0 (compatible; MSIE 5.0; Windows 98)
::ELNSB50::00004110028001e002740103000000000502000800000000
Mozilla/4.0 (compatible; MSIE 5.0; Windows 98)
::ELNSB50::00004110028001e002740103000000000502000800000000
Mozilla/4.0 (compatible; MSIE 5.0; Windows 98)
::ELNSB50::00004110028001e002740103000000000502000800000000
Mozilla/4.0 (compatible; MSIE 5.0; Windows 98)
::ELNSB50::0000411003200258029a015b000000000503002a00000000
Mozilla/4.0 (compatible; MSIE 5.0; Windows 98)
::ELNSB50::0000411003200258029a015b000000000503002a00000000
Mozilla/4.0 (compatible; MSIE 5.0; Windows 98)
::ELNSB50::0000411003200258029a015b000000000503002a00000000
Mozilla/4.0 (compatible; MSIE 5.0; Windows 98)
::ELNSB50::0000411003200258029a015b000000000503002a00000000
Mozilla/4.0 (compatible; MSIE 5.0; Windows 98)
::ELNSB50::0000411003200258029a015b000000000503002a00000000
Mozilla/4.0 (compatible; MSIE 5.0; Windows 98)
::ELNSB50::0000411003200258029a015b000000000503002a00000000
Mozilla/4.0 (compatible; MSIE 5.0; Windows 98)
::ELNSB50::0000411003200258029a015b000000000503002a00000000
Mozilla/4.0 (compatible; MSIE 5.0; Windows 98)
::ELNSB50::0000411003200258029a015b000000000503002a00000000
Mozilla/4.0 (compatible; MSIE 5.0; Windows 98)
::ELNSB50::0000411003200258029a015b000000000503002a00000000
Mozilla/4.0 (compatible; MSIE 5.0; Windows 98)
::ELNSB50::0000411003200258029a015b000000000503002a00000000
Mozilla/4.0 (compatible; MSIE 5.0; Windows 98)
::ELNSB50::000081100400030000000000000000000503002a00000000
Mozilla/4.0 (compatible; MSIE 5.0; Windows 98)
::ELNSB50::000081100400030000000000000000000503002a00000000
Also from the logs, it looks like they started using this on or about April of 2000, so it's been going on for some time now.
Silliness.
Installing VMWare under Linux, then installing Linux under Linux.
I thought about installing dosemu, but thought better of it.
---
Server (n.),
   1. Large, extremely expensive machine that goes "Ping!". Measuring at least 25 cubic feet, heavy, bulky and giving of more heat then a nuclear power plant. It's big, it's bad, it's beautiful and makes it pretty clear what happened to this year's IT-budget.
Via Camworld, The Silicon Graphics Refrigerator Project
Cool!
Or rather, Cold!
---
JV (fellow cow-orker) and I were watching Mir crash into the South Pacific on CNN tonight. Simply amazing—150 tons of metal screaming into the ocean. It was dropping at about 720 miles per hour (dropping, as in loosing altitude—laterally it was moving way faster than than).
It must have been some sight as it streaked across Fuji.
Installed Win98 under VMWare under Linux, just so I can run a webcam at work that uses USB. VMWare doesn't support USB. Sigh.
Years ago at a large family gathering, one my Mom's cousins told of the research he did on the family (my Mom's side) tree and tracing their family back to 1700 when John "Tuscaroroa Jack" Barnwell sailed from Irland to setting in what is now South Carolina. I find it neat that there's quite a bit of information about him out on the net.
Strong words. Indeed, The New York Times has repeatedly leapt to the defense of strong copyright protection. Back on July 29th, 2000, the paper's editorial, "Copyright in the Age of Napster," told its readers, correctly, that "the protection of copyright is vital to the health of a free and creative society" and that society benefits when, "the law assures that the creation of new art, writing or other intellectual property is rewarded."

But, in September 1999, a federal appeals court ruled for a group of writers, saying that the Times, along with other defendants, was guilty of stealing the copyrighted works of freelance writers by using our work without permission in electronic media (Tasini v. The New York Times). Though only a few media companies were defendants in the case, the precedent fingered the practices of virtually every major media company. And, in fact, copyright "protector" that it is, The Times, mainly through its website, is a virtual copyright infringement machine. Since our victory, it has continued to use legal maneuvering, which now includes a hearing before the U.S. Supreme Court, to avoid paying writers their fair share.
Via NUblog, The Hypocrisy of The New York Times
I know, I'll just hand over my entire paycheck to … well … let's see … AOL Time/Warner-Disney-CNN-Viacom-Sony. Or is it Disney-CNN-Viacom-AOL- Time/Wanrer-Sony? I don't remember. But that's not important; what is is passing on my paycheck to some huge comglomerate multinational corporation because, well, gosh darn it, because they need it!
---
IDSL is dead.
Suckage.
---
The Company does dialup. I have a dialup account. Last night I got the dialup number just in case.
The phone just rings.
I dial tech support.
Ten minutes later: "All trunks are busy. Please try your call again." Click.
Major suckage.