It wasn't as bad as that time 2½ years ago (no, really! you have no idea how bad it was back then) but it still left a bad taste in my mouth. The battery on my iPhone wasn't lasting as long as it used to. I would be lucky get to a day's charge out of it, and I don't really use it all that much (using Shazam was a death sentance for my iPhone—I'd usually get one use out of it before the screen would go dark).
On Thursday, Bunny and I stop by the Apple Store only to find out that a battery replacement would require an appointment, and the first one was for Saturday. Okay, Saturday it is.
At the appointed time on Saturday, we arrive at the store. I will say we didn't have to wait all that long, but on the down side, I would have to leave the phone overnight for the replacement.
Okay, picking it up on Sunday it is.
Today, I got the phone back. It works. I was able to check multiple songs with Shazam with no discernible battery drain, so things are looking up. Until I decide to pull some pictures off the phone.
Usually, I just plug in the phone to the Mac-mini I have, run the Photos app and import them. Only this time I coudn't. What should have been a minute operation turned out to be a grueling half hour torture test trying to find out what happened to the "import function" of Photos. I was able to finally resolve the issue by rebooting the Mac-mini!
Seriously, Apple? You're better than Microsoft! This shouldn't require a reboot! Come on!
I swear, they really need to bring back Steve Jobs.
Right now it's all quiet outside, but I suspect that won't last the day.
So today, after you have read The Constitution, but before you hand over your beer and say, "Watch this!" please remember to be careful. I would hate for this to happen to you: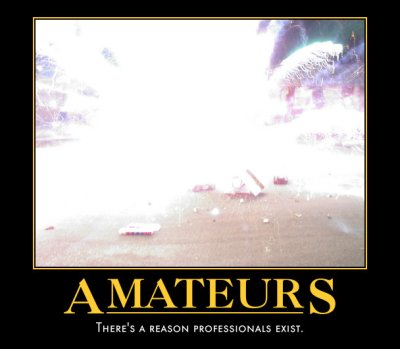 ---
"So the weather report states thunderstorms for the Fourth."
"Oh! At night?"
"Mostly the afternoon and ending around 8:00 pm."
"Darn!"
"Oh, expecting to get out of walking to the Boca Raton fireworks show?"
"No."
"No?"
"No. I was hoping our neighbor wouldn't blow us all up!"
---
It sounds like Desert Storm outside.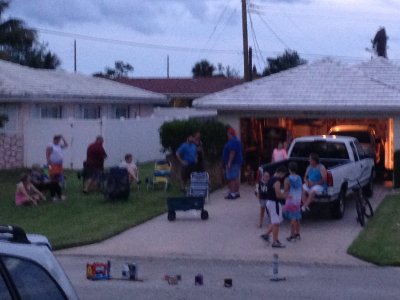 I guess the threat of thunderstorms wasn't enough to deter the neighbor.
Sigh.
Bunny and I are on the road for a weekend getaway (more on that later). We are headed back into that maelstrom of roads known as Orlando. On the downside, said maelstrom has extended itself a significant distance outside of Orlando and for the first time ever, we missed the turn at Ft. Pierce and ended up on a nearly 20 mile detour.
Then, we nearly ended up missing a service station on the Turnpike—don't ask how that happened. It did. And the maelstrom wrought it's malevolent influence over us to the point where we nearly called the whole weekend off.
And finally, Google Maps directed to the rear of the hotel.
I swear, Orlando is actively trying to kill us.
---
Bunny first proposed this trip several months ago and I was initiallty dubious. I mean, a trip to view barbershop quartets! I was reluctant to go, but Bunny assured me that I was under no threat of losing hair or limbs. No, the only thing under threat was the ears.
We finally arrived at the hotel. As we were walking to our room, it seemed to me that barbershop quartets have shrunk over the years, but the lack of matching outfits, no singing and a definite lack of scissors meant that no, the people I was seeing were in fact Little People milling about. Too many to be conincidental and indeed, there really is a conference of Little People scheduled at the same time and not some Lynchian nightmare.
At least, not yet.
---
The hotel is quite nice, but it has … a few oddities that I've never seen before. The first, and most innocuous, are all the automatic lights about the place. There's one in the bathroom, one beneath the night stand and the entire garage appears to have motion sensative lights (it certainly got brighter in the garage when I went back this evening to pick up a USB cable I left in the car). It was rather unexpected, but a pleasant unexpectedness.
The next was also unexpected, but to me, not a pleasant unexpectedness. The mirror in the bathroom is nice, large and certainly bright: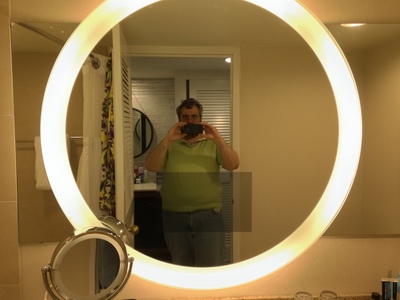 But there's this odd greyed out section near the bottom. Here's the not-so pleasant unexpectedness: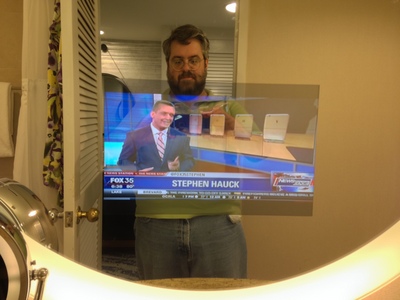 It's a television screen! (and yes, when I turned it on, it was tuned to Fox News. CNN wouldn't have been any better)
Really?
First off, are people so addicted to television that one is needed in the bathroom? [Yes. —Editor]. And second, you can't even watch it while sitting on the toilet! You can only watch the television while standing in front of the mirror. That's just … just … weirdly random.
And finally there is this: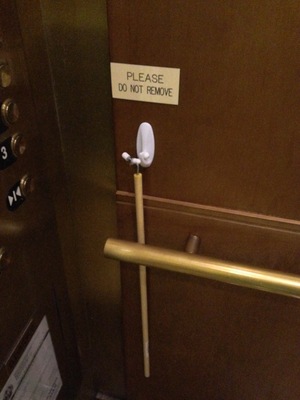 A stick. In the elevator. Just hanging there with a sign saying not to remove it. And it's not limited to one elevator. No, each elevator has a stick, hanging on a sign saying not to remove it. They're just there. I don't know.
Groups of people singing four part harmony. Little People milling about. Elevator sticks. Automatic lightbulbs. Television mirrors.
Orlando is weird!
It may have been obvious to some, but not to me. It suddenly dawned on me what the elevator sticks were all about. The puzzle pieces were all there, I just hadn't made the connection.
I am not the target audience for using the elevator stick, nor is the staff the target audience. No, the target audience is the Little People, so they can use it to push the elevator button in case they can't reach it.
It's obvious in hindsight.
While I joked about the elevator sticks, it's not something I'm used to seeing. And here they were, just hanging out in elevators with no obvious usage to me, some one who can reach all the buttons. It wasn't until I was sleeping and my subconscience told me an old riddle I heard as a kid: "A man lives in a tall apartment building. On some days, he rides the elevator to his apartment on the 20th floor. On other days, he rides the elevator to the 18th floor and walks up two more flights. Why?"
Oh.
---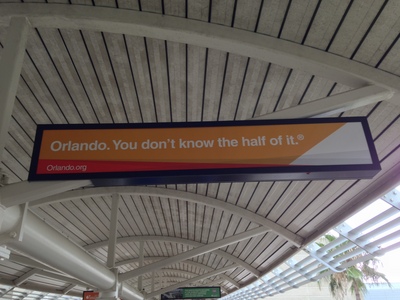 Don't let the propaganda fool you—Orlando is trying to kill you.
Or at least drive you mad and empty your wallet.
---
In the lobby of the hotel is a store by the name of "Market Orlando." I can only describe it as if hippies-cum-yuppies from Berkeley ran 7-Eleven. Gluten-free, organic, farm-fresh snacks, chips, salads and sandwiches.
Oh, and cruelty-free pizzas. Can't forget those.
It has an extensive wine selection (Napa Valley present!), but the soda selection is pretty much limited to Pepsi and Diet Pepsi (which sucks because I'm a Coca-cola person myself). There's also about a bazillion brands of artisanal water.
Oddly enough, I did not see any granola for sale.
I'm telling you, Orlando is weird! When it's not trying to kill you.
The sucking vortex of non-Euclidean roadways known as Orlando began it's influence of madness over us hours before we left. We were planning on how best to get back to the Turnpike from the hotel when Bunny and I started arguing yet again. She wanted to follow the torturous path we took to get here, which involved an intricate series of turns and switchbacks while carefully aligning ourselves within certain lanes at certain times. I wanted to follow yet another intricate path of a torturous series of turns and switchbacks while carefully aligning outselves within certain times at certain lanes. Either route lead to madness.
Also at stake was who would be the unfortunate driver to brave the maelstrom of roads until the relative safety of the Turnpike. I don't recall who drove. All I know is we barely made it out alive.
Unrelated, I wish to leave you with a mental image of the most surreal observation I saw on the way out of the hotel: a Little Person and their dog riding a Segway down the hall.
So I received the following email from my registrar:
From

<

XXXXXXXX­XXXXXXXX­XXXXXXX

>

To

<sean@conman.org>

Subject

WHOIS Data Confirmation for x-grey.com

Date

Mon, 9 Jul 2018 09:30:23 -0400 (EDT)

Dear Valued Customer,

ICANN, the organization responsible for the stability of the Internet, requires that each domain name registrant be given the opportunity to correct any inaccurate contact data (WHOIS data) associated with a domain name registration. Our records for your domain are as follows:


x-grey.com

Domain Name: X-GREY.COM
Registry Domain ID: 1325416434_DOMAIN_COM-VRSN
Registrar WHOIS Server: whois.domain.com
Registrar URL: www.domain.com
Updated Date: 2017-11-08T05:11:47
Creation Date: 2017-11-07T22:32:17
Registrar Registration Expiration Date: 2018-11-08T01:32:21
Reseller: Dotster.com
Domain Status: clientTransferProhibited https://icann.org/epp#clientTransferProhibited
Domain Status: clientUpdateProhibited https://icann.org/epp#clientUpdateProhibited
Registry Registrant ID:
Registrant Name: Data Protected Data Protected
Registrant Organization: Data Protected
Registrant Street: 123 Data Protected
Registrant City: Toronto
Registrant State/Province: ON
Registrant Postal Code: M6K 3M1
Registrant Country: CA
Registrant Phone: +1.0000000000
Registrant Phone Ext:
Registrant Fax: +1.0000000000
Registrant Fax Ext:
Registrant Email: noreply@data-protected.net
Registry Admin ID:
Admin Name: Data Protected Data Protected
Admin Organization: Data Protected
Admin Street: 123 Data Protected
Admin City: Toronto
Admin State/Province: ON
Admin Postal Code: M6K 3M1
Admin Country: CA
Admin Phone: +1.0000000000
Admin Phone Ext:
Admin Fax: +1.0000000000
Admin Fax Ext:
Admin Email: noreply@data-protected.net
Registry Tech ID:
Tech Name: Data Protected Data Protected
Tech Organization: Data Protected
Tech Street: 123 Data Protected
Tech City: Toronto
Tech State/Province: ON
Tech Postal Code: M6K 3M1
Tech Country: CA
Tech Phone: +1.0000000000
Tech Phone Ext:
Tech Fax: +1.0000000000
Tech Fax Ext:
Tech Email: noreply@data-protected.net
Registry Billing ID:
Billing Name: Data Protected Data Protected
Billing Organization: Data Protected
Billing Street: 123 Data Protected
Billing City: Toronto
Billing State/Province: ON
Billing Postal Code: M6K 3M1
Billing Country: CA
Billing Phone: +1.0000000000
Billing Phone Ext:
Billing Fax: +1.0000000000
Billing Fax Ext:
Billing Email: noreply@data-protected.net
Name Server: ns1.armigeron.com
Name Server: ns2.armigeron.com
URL of the ICANN WHOIS Data Problem Reporting System: http://wdprs.internic.net/
>>> Last update of WHOIS database: 2017-11-08T05:11:47 <<<


"For more information on Whois status codes, please visit https://icann.org/epp"

Registration Service Provider:
XXXXXXXX­XXXX XXXXXXXX­XXXXXXXX­XXXXXXX
+1.X­XXXXXXXX­X
This company may be contacted for domain login/passwords,
DNS/Nameserver changes, and general domain support questions.

To review and update your WHOIS contact information, please log into our management interface at: XXXXXXXX­XXXXXXXX­XXXXXXXX­XXXXXXXX­XXX

If any of the information above is inaccurate, you should correct it. If all of the information above is accurate, you do not need to take any action.

Please remember that under the terms of your registration agreement, the provision of false WHOIS information can be grounds for cancellation of your domain name registration. If you have any questions or comments regarding ICANN's policy, please visit the following link http://www.icann.org/registrars/wdrp.htm

Thank you for your attention.

Best regards,
XXXXXXX
It's kind of hard to review my information when it's protected from my viewing it for my protection. I think my registrar is going a bit overboard in complying with the GDPR.
Sigh.
---
Bunny and I had dinner at a nearby Chinese restaurant. As we ate, Bunny mentioned that the music we were listening to must be the Chinese equivalent to elevator music. I concurred, and because I was curious to know what it was, I thought I might try to use Shazam to identify it.
It did.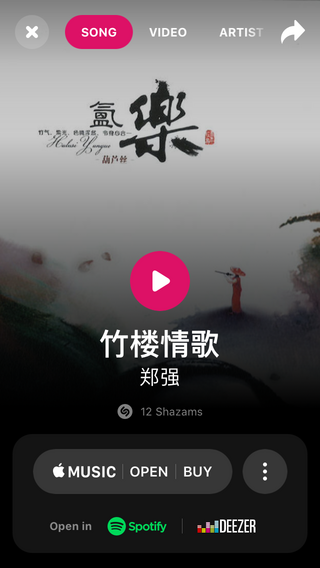 And now I know.
I was at The Scottish Place to pick up some lunch. I placed my order, and while waiting in line, I noticed the telltale signs of Microsoft Windows: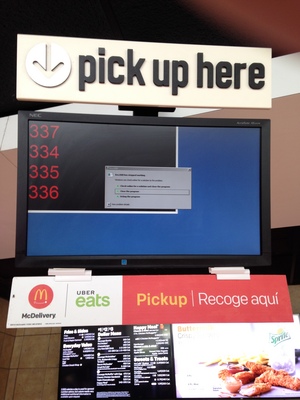 Ah, Windows, keep on being your special snowflake self.
But in all seriousness, who set this up? If you are going to run any computer in a public space, I would hope those setting it up would run the bare minimum for the service required (and in this case, just the operating system and whatever program it is that runs the display) and remove everything else. Then, for whatever left is running, is there not some Windows setting to just have it automatically reboot upon an error? Or simply not display warning messages like this on the display meant for public viewing?
I have to wonder how long this message has been here, waiting for someone, anyone, to select an option (or to restart, reboot or reinstall). I wonder if management even cares?